Category Archives:
Chicago Food Photography
Last January I had the delicious pleasure of photographing food and wine pairings at renown Spiaggia restaurant on North Michigan Avenue for Wine & Spirits magazine. Since its inception, Spiaggia has garnered a smorgasbord of awards for its food, wine selection, and chefs, including James Beard awards and a Michelin star. In addition to the food and wine pairings, I photographed the interior space, Chef Chris Marchino, and Sommelier and Beverage Director Rachel Lowe.
An apartment rental agency located in the trendy/funky/arty neighborhood of Wicker Park needed a visual representation of the high points of the immediate area to assist them in renting local properties.  They contacted me to produce a 20-foot wide mural of the nearby attractions.  The dozens of images in this collage include churches, school, restaurants, clubs, signage, nightlife, public spaces, and people simply enjoying the vibrant neighborhood. Chicago has always been known as a city where you can find an abundance of great steaks, but don't think meat lovers are in any way deprived should they be outside the Windy City. If you are ever in the Detroit area, you might want to head toward the upscale neighborhood of Birmingham and check out Cameron's Steakhouse. I was there on assignment recently and I found it hard to concentrate on my work with all the incredible food to indulge in. The fresh oysters, fine wine, succulent salmon, and of course steaks galore. Cameron's is an old-school, classy steak joint, the kind of place you might expect Frank Sinatra and the Rat Pack to have their own private booth. I don't often tell clients that I will "work for food", but after this job I was thinking of reconsidering that policy.
Located in Chicago's Greektown, Athena has been serving tasty Greek food ("cuisine" might be too extreme) for 17 years. The enclosed patio is one of the biggest attractions, offering a bright and cozy environment in the dead of winter, or a cool respite on those hot summer days, all with a view of Chicago's skyline.  I had the pleasure of photographing Athena recently, and it offered such a nice range of photo possibilities from the warm interior, the colorful central bar, to the cocktails and delicious Greek dishes. The fried calamari will blow you away–best I've ever tasted.  OPAH !!!
Urban farm, it almost sounds like an oxymoron, but trust me, it isn't. These farms are sprouting up (no pun intended) all over Chicago and other urban areas, and represent an efficient way to re-purpose under-utilized warehouse space in the city, often in economically distressed areas. Plus, they offer a tremendous opportunity for small-scale organic farmers to ply their trade in a supportive and mega-green environment.
I recently had the occasion to photograph two such urban farms: The Plant and Iron Street Farm. The former calls itself "a net-zero energy vertical farm and food business operation" whose purpose is to "promote closed-loop food production and sustainable economic development through education and research." Now that's a mouthful (no pun intended). And the later is a "seven-acre site on Chicago's south side that produces local, healthy, and sustainable food year-round with a focus on serving, training, and engaging vulnerable populations." Urban farms produce a wide range of products including cheese, vegetables, mushrooms, honey, beer, compost, and even fish. I suspect when we sang "Old McDonald had a farm" this wasn't exactly the type of farm we were referring to.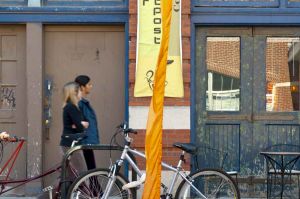 Just west of the downtown Loop area is Fulton Market.  For decades, this area was home to countless meat processors and warehouses, and several still operate today.  Come in the pre-dawn and early morning hours and the streets are clogged with trucks picking up provisions for local restaurants.  In recent years, Fulton Market has seen upscale shops, galleries and several cutting edge restaurants open.  Just a few blocks away on west Randolph is the more established Restaurant Row–with the addition of Fulton Market eateries, Chicagoans have countless gourmet options just minutes from the Loop.
Mid-August means Greek Fest, and this year was the 63rd annual festival of feta, olive oil, spanikopita, and Greek dancing.  To the uninitiated, the dancing looks like a Greek version of the hora: people dancing in a circle, people pretending to know what they are doing but really just faking it, and people dancing after eating too much food and trying not to be sick.  If you like to eat delicious Greek food with 50,000 good friends, this is the place to be.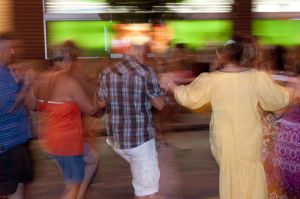 I was recently hired by a local bank to capture some artistic photos of the sedate leafy suburb of Winnetka. There were lots of photos of quaint shops, half-timber ersatz English facades, and assorted architectural details, but this photo of a cafe window was my favorite.  I like the colors, the many depths of activity, and the cacophony of shapes.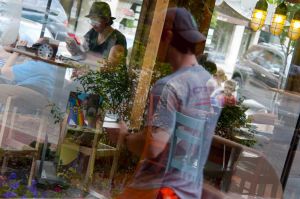 Recent Posts

My Favorite Links

Subscribe to my blog via email