Tag Archives:
Chicago creative photographer
I just learned of the death of Terry Callier, 67, a blues-folk-jazz musician whose career spanned 50 years.  While he was relatively unknown in this country, he had a thriving career in the UK.  He may not have gained wide commercial fame, but among musicians he was greatly influential and respected.   Ten years ago I had the privilege of photographing Mr Callier for a Canadian jazz magazine, and we went straight to one of his favorite local venues, the historic Green Mill Lounge in Uptown.  He struck me as being soft-spoken, polite, and eager to please, not the persona of a performer with a long-career and huge following around the world.  In the early 80s he put his music career on hold to raise his daughter, and became a computer programmer at the University of Chicago; ten years later his music was rediscovered and he began performing and recording again. Callier was born in Chicago and grew up in the Cabrini-Green housing project, becoming friends with Curtis Mayfield and Jerry Butler. Here are some photos that offer a glimpse of the man I met in spring 2002.
The Midway Plaisance is a mile-long green belt bisecting the University of Chicago campus. This area was adjacent to the World's Colombian Exposition of 1893–if you read "Devil in the White City" you know all about this area. The original Ferris Wheel might have been located exactly where this photo was taken.  Today, this is the world's best place for people watching of Nobel Prize winners. Hyde Park is the part of Chicago where I live as well as my friend Barack Obama.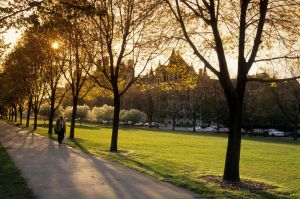 Crown Fountain is a fun place to hang out. Where else can you be drenched by a powerful stream of water bursting from a giant pair of video lips while admiring the stunning architecture along south Michigan Avenue? These teens weren't admiring the historic architecture, they were just chillin (literally) on a hot summer day.  Now we know where all the students were during the recent public school strike.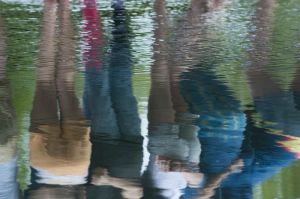 Recently had a two-day shoot for the American Dietetic Association to illustrate various aspects of food safety.  Models, make-up, food stylist, nice locations–it all added up to a fun and stress-free photo shoot.  I also learned some important lessons about proper food preparation and storage: don't store eggs in the egg compartment in the fridge; don't turn fried chicken with your fingers; and don't eat pork sushi.
As a photographer, the variety of my work is usually dependent on the needs and whims of my clients. This past month is a prime example of the wide range of assignments I get on a regular basis.  I recently had the privilege of photographing the following celebrities:  "Jersey Shore" superstar Snooki; Igor Shuvalov, Deputy Prime Minister of Russia; and MacGoogle and MacDuff, my two famous Airedale terriers. I don't know what the next month will bring, but I will keep you posted.
Recent Posts

My Favorite Links

Subscribe to my blog via email