Category Archives:
Chicago Art Photography
I just learned of the death of Terry Callier, 67, a blues-folk-jazz musician whose career spanned 50 years.  While he was relatively unknown in this country, he had a thriving career in the UK.  He may not have gained wide commercial fame, but among musicians he was greatly influential and respected.   Ten years ago I had the privilege of photographing Mr Callier for a Canadian jazz magazine, and we went straight to one of his favorite local venues, the historic Green Mill Lounge in Uptown.  He struck me as being soft-spoken, polite, and eager to please, not the persona of a performer with a long-career and huge following around the world.  In the early 80s he put his music career on hold to raise his daughter, and became a computer programmer at the University of Chicago; ten years later his music was rediscovered and he began performing and recording again. Callier was born in Chicago and grew up in the Cabrini-Green housing project, becoming friends with Curtis Mayfield and Jerry Butler. Here are some photos that offer a glimpse of the man I met in spring 2002.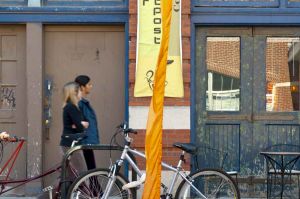 Just west of the downtown Loop area is Fulton Market.  For decades, this area was home to countless meat processors and warehouses, and several still operate today.  Come in the pre-dawn and early morning hours and the streets are clogged with trucks picking up provisions for local restaurants.  In recent years, Fulton Market has seen upscale shops, galleries and several cutting edge restaurants open.  Just a few blocks away on west Randolph is the more established Restaurant Row–with the addition of Fulton Market eateries, Chicagoans have countless gourmet options just minutes from the Loop.
The Chicago Cultural Center (previously the main branch of the Chicago Public Library) houses two eye-popping domes.  This one is the GAR (Grand Army of the Republic) Rotunda, and the other was designed by Louis Tiffany.  This room is a memorial to the Union soldiers who gave their lives in the Civil War; it's one of the most beautiful and peaceful rooms in Chicago.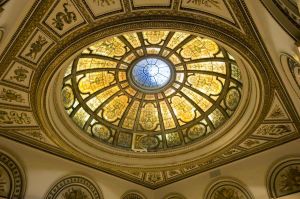 The Modern Wing of the venerable Art Institute of Chicago opened three years ago and has been an unqualified hit among art lovers and tourists alike–not that these two groups are mutually exclusive, but…   This museum is home to 20th and 21th-century art plus the world-renowned collections of modern European painting and sculpture, contemporary art, architecture and design, and photography.  In this photo we see the museum's popular "Yoga and Picasso" class held on Tuesday mornings. Most people are not aware that Pablo was a yoga enthusiast, often cited as the inspiration for his Blue Period. Next month the museum will feature "Cooking with Matisse"–sure to be a big hit.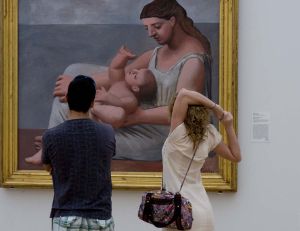 The Midway Plaisance is a mile-long green belt bisecting the University of Chicago campus. This area was adjacent to the World's Colombian Exposition of 1893–if you read "Devil in the White City" you know all about this area. The original Ferris Wheel might have been located exactly where this photo was taken.  Today, this is the world's best place for people watching of Nobel Prize winners. Hyde Park is the part of Chicago where I live as well as my friend Barack Obama.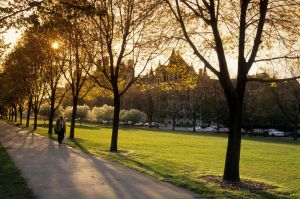 Crown Fountain is a fun place to hang out. Where else can you be drenched by a powerful stream of water bursting from a giant pair of video lips while admiring the stunning architecture along south Michigan Avenue? These teens weren't admiring the historic architecture, they were just chillin (literally) on a hot summer day.  Now we know where all the students were during the recent public school strike.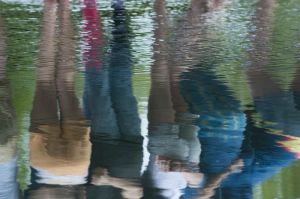 When does graffiti become a mural or a work of art? I came upon this artist one morning in Rogers Park, on the far north side. I'm really not sure if his work was sanctioned or condoned by the local authorities, or perhaps they just didn't see him because of the camouflage jacket he was wearing.  And I guess I will never know.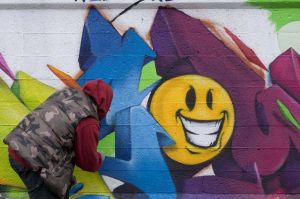 Recent Posts

My Favorite Links

Subscribe to my blog via email